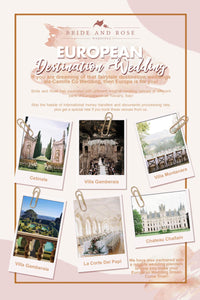 TUSCANY, ITALY
If you are dreaming of a fairytale wedding ala-Camille Co, then Europe is for you!
Bride and Rose has partnered in International Wedding Suppliers such as in Bali, Indonesia and Tuscany Italy! Save the hassle of money transfers and language barriers by planning and booking your destination wedding suppliers through us!
We have an ALL IN package in Tuscany Italy from foods, venue, accommodation, cocktails, and everything accordingly plan from the welcome dinner to the after party. Please inquire directly if you are interested. 
INQUIRIES 
-For more details and bookings, please talk to one of our representatives in the chat box below.
-It may take up to 24hrs before we reply. We do not respond to inquiries on weekends unless you are already in touch with a representative.
APPOINTMENTS
-We know that it is always safe to stay home-and we value that. Bride and Rose is a co-working space, and we want to help you save time and effort. So, if you are serious about hiring one of our brand partners, we can help you book an appointment with brand partners all in one day, by becoming our Club Member (see membership plans here).
-You can also set an appointment and see actual samples in our showroom at Quezon City, or meet with our wedding planners to discuss packages, without availing our membership.
-We will start accepting an appointment from Mondays to Sundays starting from July 8, 2020. To set an appointment, viber or sms +639178587474 with the following details:
**************
Target Wedding Date:
Name of Couple:
Age:
Interested Brand/Products/Services:
Describe how you imagine your wedding day:
Preferred Appointment Slot (Choose from Mondays to Sundays 10am to 6pm) 
*****************
-We will send you a confirmation if your chosen date is available, or we will recommend a time slot. We do not accept calls in booking an appointment.
-We will respond with in 48hrs. Reach our chat boxes for follow ups. 
-We accept phone call meetings with a Representative.
QUARANTINE PERIOD

-Staffs and crews will wear necessary protective gears such as masks and face shields. 

-There will be mandatory temperature check upon departure of vehicles going to the venue. Anyone with a tempreature og higher than 37.6'C shall not be allowed to work. 
-No commute policy. All crews will be provided a shuttle service to and from the venue.
-Guests will also go through mandatory temperature check before entering the establishment.
-There will be no-hand contact alcohol dispenser and foot bath in all the entries.