100+ RTW Dresses FOR SALE
Instagrammable Bridal Shop
100+ RTW Dresses FOR SALE
Instagrammable Bridal Shop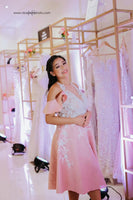 A WEDDING CONCEPT STORE
Bride and Rose  is a Physical Showroom and Co-Working Space that showcase local and international wedding suppliers and designers, and all things beautiful, in one roof!
We have 200+ sample dresses of all styles from local and international designers. We have RTW gowns for sale, for rent, and we also custom made wedding gowns, entourage dresses and suits!
We have about a hundred different designs of jewelries and accessories and all kinds of wedding essentials such as wedding planner notebooks, garters, veils, etc. and even bridal shower props that you can purchase right away!
Lastly, we have more than 50 displays, samples and portfolios of our brand partner suppliers from Cakes, Invitations, Souvenirs, Venue Styling and more! Bride-and-Rose is indeed a Bride-To-Be Heaven!
LEARN MORE
VISIT US! BOOK AN APPOINTMENT!
ORIGINAL RTW DESIGNER DRESSES FOR SALE
FEATURED DRESS RENTAL COLLECTION
Bride and Rose not only offers 100+ RTW Wedding Gowns FOR SALE, But we also have collection of handpicked rare and trendy pieces FOR RENT!
SAMPLE WEDDING DRESS SALE!!
Shabby Chic Style Studio
Shabby Chic Style Studiois abridal shopandvenue stylingbusiness with a signatureALL IN PACKAGESpartnered with trusted suppliers to achieve a modern and elegant weddings and events that truly captures the heart of everychicand modernbrides and celebrants 
It's mission is to give AFFORDABLE weddings without breaking the bank and without compromising the QUALITY and AESTHETICS
[ READ MORE ]
Location
Our Store
Bride and Rose
2/F Il Audrey Building, Blk 136, Lot 6 Casa Milan, Mindanao Avenue, Quezon City
BOOK AN APPOINTMENT AT +639178587474 (SMS ONLY!)
WHAT ARE THEY SAYING ABOUT US?
It's so pretty, such a pretty store! It has magic that I got engaged... This pandemic is making it difficult to enjoy all the celebrations; many has been asking me how does it feel to become a bride, and honestly, I don't feel it at all! Bride and Rose finally made me feel it!

Vern Enciso, Mega Influencer
"This is a once in a lifetime opportunity for up and rising industry players"

Wedding Loco
"Trish idea is truly one-of-its-kind! It's my first time to encounter this kind of concept during my many years of practice"

Atty. Raymund Marcelino